I
mportant Date
Submission Deadline

Notification Date

Registration Deadline

Conference Date
Before April 10, 2017

April 20

, 2017

Before May 1, 2017

May 20-22, 2017
Welcome to ICMHI 2017
We are pleased to announce that the first International Conference on Medical and Health Informatics 2017 (ICMHI 2017) will be held in Taichung city, Taiwan during May 20-22, 2017. The ICMHI 2017 aims to bring together outstanding scholars, researchers, and students to exchange and share their experiences and research results about all aspects of Medical and Health Sciences. We also provides the keynote address and several plenary invited speeches for discuss the most recent innovations, trends, and concerns, practical challenges encountered and the various solutions in the fields of medical and health informatics. We cordially welcome all experts of industry, academia and government from all over the world to contribute to and help shape this conference through submissions of their research abstracts, papers and posters. Eventually, the ICMHI 2017 facilitates interdisciplinary collaboration and exchange among technologists internationally.
Publication
Conference Proceedings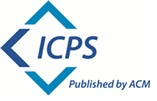 Submissions will be peer reviewed by conference committees, and accepted papers will be published in International Conference Proceedings Series by ACM, which will be archived in the ACM Digital Library, and indexed by Ei Compendex and Scopus and submitted to be reviewed by Thomson Reuters Conference Proceedings Citation Index (ISI Web of Science).
Publication Ethics - Penalty against Plagiarism
We firmly believe that ethical conduct is the most essential virtual of any academic. Hence any act of plagiarism is a totally unacceptable academic misconduct and cannot be tolerated.
Good News! All submitted full paper will have opportunities for consideration for the Special Journal Issue. The final decision for paper selection will be made based on peer review reports by the Guest Editors.
1.International Journal of Management, Economics and Social Sciences (ISSN 2304-1366; http://www.ijmess.com/), and indexed by Ei Inspec (http://thomsonreuters.com/en.html)
2.Journal of Quality (ISSN 1022-0690; http://www.csq.org.tw), and indexed by Ei Compendex (http://www.ei.org) and Scopus (http://www.scopus.com/scopus/home.url).
3. Chung Shan Medical Journal (ISSN 1680-3108; http://www.airitilibrary.com/Publication/ ), and indexed by TSCI (Taiwan Science Citation Index, https://sites.google.com/a/paperdoctor.net/2009/10)
4. Journal of Computing Science and Engineering (JCSE) indexed by Ei Compendex (http://www.ei.org) and Scopus (http://www.scopus.com/scopus/home.url). pISSN (print version): 1976-4677 eISSN (electronic version): 2093-8020.
5. The Journal of Universal Computer Science (J.UCS), indexed in the Science Citation Index (SCI): The 2015 impact factor of the journal is 0.546, the 5-year impact factor is 0.684 (ISSN 0948-695x; Online Edition: ISSN 0948-6968) http://www.jucs.org/jucs_23_2; and also reviewed among in: Scopus, DBLP Computer Science Bibliography Server, ACM Computer Clasiffication System, MathSciNet and Mathematical Reviews, Microsoft Academic Search.
Call For
Papers (Download the cfp.pdf)
The ICMHI 2017 solicits contributions of abstracts, full papers and posters that address themes and topics of the conference. The topics of interest include, but not limited to the following:
Analytics for Clinical Care
Applications in Electronic Health Records
Biomedical Data mining
Biomedical Engineering